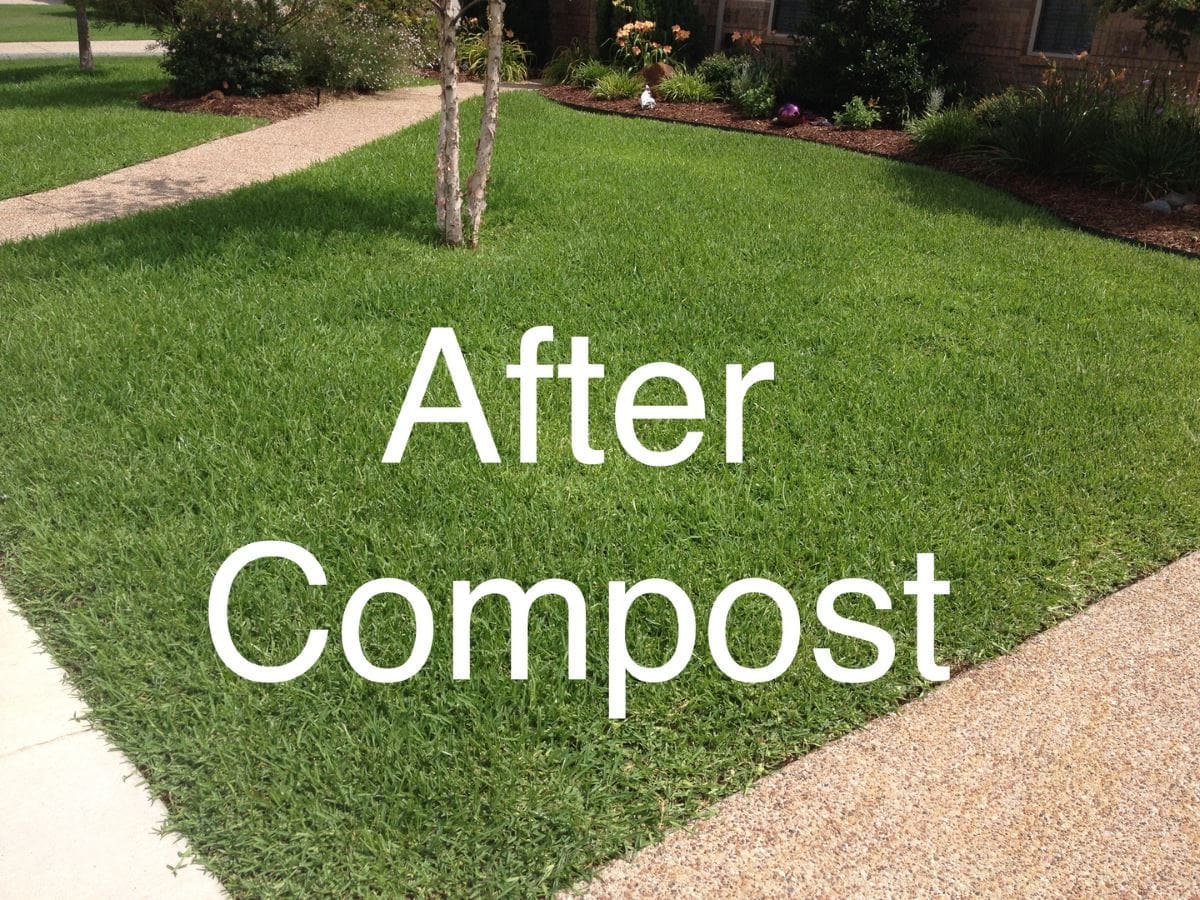 Get results. Our Denton based Earth Kind Services provides an organic solution to enrich your soil to have a healthy, green lawn naturally . Our unique service is to apply Organic Compost as a Lawn Top Dressing using professional spreaders. This can be done at regular rate up to 1/4" or double rate up to 1/2".  In summer we can also apply a Premium Turf Blend soil mix at a double rate that is awesome for eroded areas and can help minor leveling issues -fixes up newly sodded lawns too . We also offer our Annual Soil Feeding & Fertilization Program:  This includes 1 Top Dressing with rich compost and 4 Organic Lawn Fertilizations (Spring, Summer, Fall, & Winter).  Our organic fertilizers have over 100+ nutrients, mychorizial fungi, amino acids, & beneficial microorganisms to build the eco sytem of your soil. Organic lawn care is an eco-responsible way to care for your lawn that really does work.
Feel good about what you put on your lawn that your kids and pets play on. Compost is kid and pet friendly.  It does what fertilizing alone can't, it brings fresh life into depleted soils. The benefits are amazing: Grass roots grow deeper and denser. Bare spots in grass fill in due to rich nutrient environment. Save money by using less water, have less lawn insects and lawn disease problems such as TARR (take all root rot) and Brown Patch with healthy soil. See our testimonies at bottom of the page or on google reviews. We also are on Nextdoor app, Angie's list, and Yelp.
Compost feeds the soil microbes & earthworms that release nutrients, relieving compaction and thatch problems. The soil food web needs diversity of fungus, bacteria, and other living things in your soil to feed your plants.
Whether you use organic lawn care and organic fertilizer or synthetic products your landscape will get long term benefits from our Organic Compost Lawn Topdressing. Spring & Fall are excellent times to have compost spread on your lawn as a complement to your lawn fertilizing program. Lawn core aeration before the compost will allow it to go deeper into the soil profile ( if you don't have a company to do this we can refer one). We have special blends for sports fields and soccer fields such as 50/50 blend of fine compost and sand. In Summer we can apply the 50/50 mix to your lawn at a "double rate" for rich nutrients and to build 1/2" layer of soil.  This is the recommended mix if ned sod with gaps or minor leveling is desired. (Just compost will not help with leveling)
Compost over-seeding is an alternative to hydro-seeding, which provides more organic matter to new seedlings and retains moisture for their growth. Schedule for lawn renovation: Fall- we seed Fescue grass. Spring & Summer -we seed Bermuda(Arden or Triangle Blend) and Buffalo grass when temperatures are warm enough, as well as any native grasses or wildflowers.
We can also do soil prep for sodding by spread our Turf blend soil mix and soil inoculant, then sod can be laid over that.  This is a great start if you are having someone install sod for you ( we don't do sod installation). Another option is for us to spread compost over the area and then it can be tilled into the soil (we no longer offer roto-tilling services) In North Texas most sod is Bermuda, St. Augustine, or Zoysia. On existing lawns we can provide lawn leveling to fill in holes and divots that develop over time. Delivery and spreading is also available for Dyno Dirt, Dyno Soil, Plano Pure, Texas Pure Topdressing, Native Hardwood Mulch.
In North Texas the soil really benefits when adding organic matter. We use compost that is fully composted for 6 to 12 months. There is no bad smell when we apply it to your lawn.  Click on FREE ESTIMATES tab and we will contact you with an estimate or to get more information. We are a local company from Denton and we are not a franchise. Thank you for supporting local business. Earthworms really dig our compost.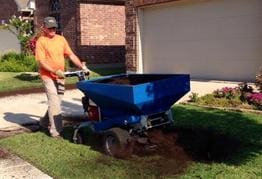 Is Your Lawn Healthy? Let Us Help
Have a naturally healthier lawn. Top dressing with compost is the single most important thing you can do for your landscape.
Top Dressing with Organic Compost will breathe fresh life into your soil. Compost contains beneficial microbes and builds better soil for your yard. Healthy soil grows healthy plants with less disease and pest issues. We can also deliver and spread soil, mulch, Dyno dirt, dyno soil & Plano Pure Topdressing. Beau Propes - Family owned in Denton, Texas
We service the following areas: Denton, Robson Ranch, Harvest, Allen, Alliance, Argyle, Arlington, Aubrey, Canyon Falls,  Carrollton, Celina, Colleyville, Coppell, Corinth, Dallas, Double Oak, Flower Mound, Farmers Branch, Fort Worth, Frisco, Frisco Lakes, Gainesville, Grapevine, Harvest, Hickory Creek, Highland Park, Highland Village, Irving, Justin, Keller,Krum, Lantana, Lewisville, Little Elm, Melissa, McKinney, Northlake, Plano, Providence Village, Ponder,  Prosper, Richardson, Roanoke, Robson Ranch, Sanger, Shady Shores, Southlake, The Colony, Trophy Club, University Park, Crossroads, Oak Point, Lake Dallas, Westlake.